Hubby brought me to Hongkong as my birthday present this year! Went from 13 - 17 February with my yellow family & my parents.
Flight was at 8am, so we had to wake up at 4 plus to get ready and head over to the airport to check in. Super love super early flights as they give me motivation to wake in excitement! Lol.
This trip was planned and booked on our own instead of going to the agency, so it was really much more cheaper.
My second trip to Hongkong but first time to Disneyland! :D
This trip is actually Hubby & Clovine's first trip on a plane!
Clovine in her pyjamas as bathing and changing her early in the morning would make her real cranky!
As usual hubby is sleeping. He can sleep anywhere anytime even while watching tv or movie really get on my nerves sometimes -.-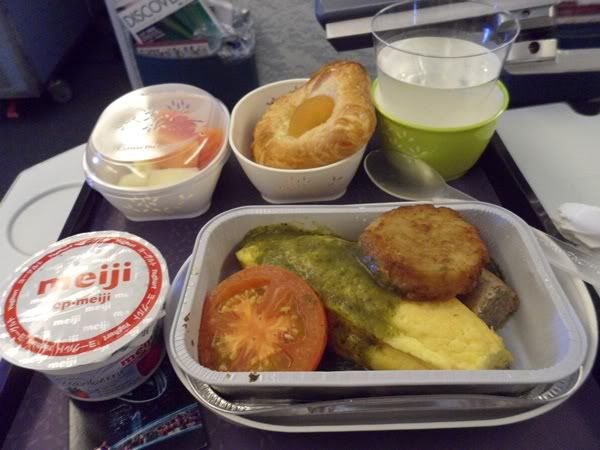 The super yucky looking breakfast served. Tastes yucky too! One bite and I'm done.
-
Reached Hongkong at around 12 and we headed straight to Disneyland Hollywood hotel in a cab!
Left our suitcases at the conceige and headed over to Disneyland first as its still too early for us to check in.
Yay my dreamland!!!!
HAHAHA now then I realised my father's eyes is closed! LOL.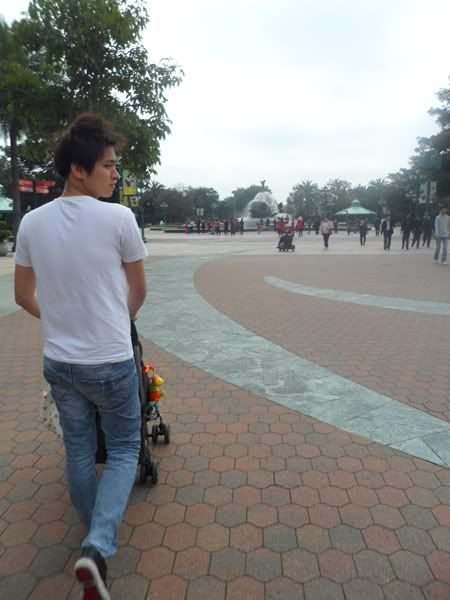 Beautiful place! Really is like every girl's fairytale place!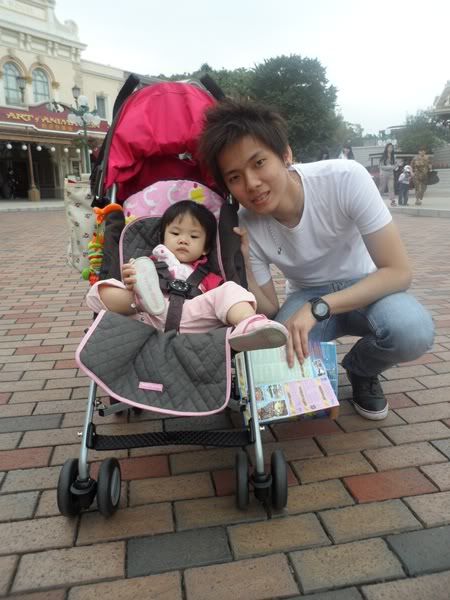 Our future house? Hehehehe.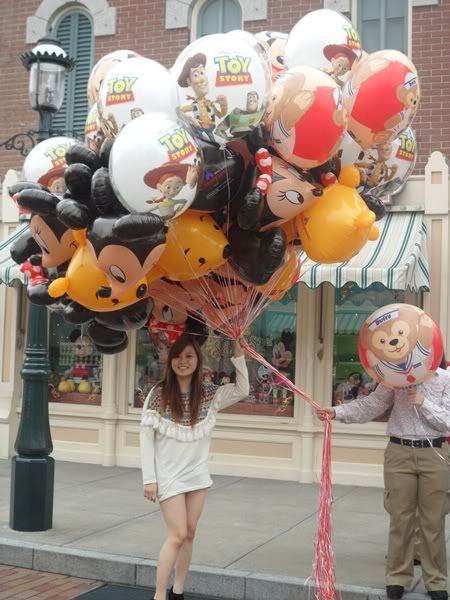 Yay big bunch of balloons!
First stop, Tomorrowland!
Had our lunch first before continueing our journey.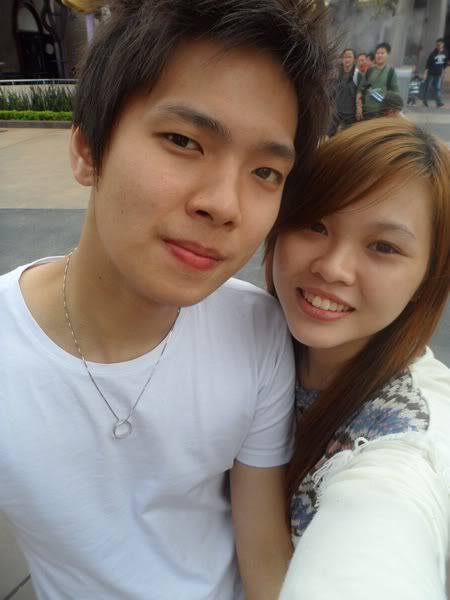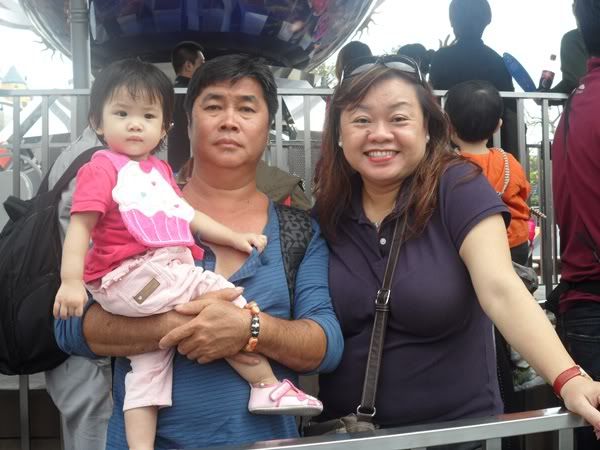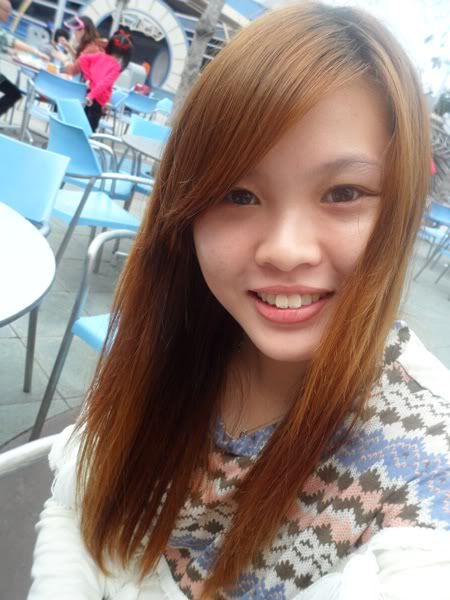 Then we went to "Stitch Encounter"! It's a place where you get to really interact with Stitch!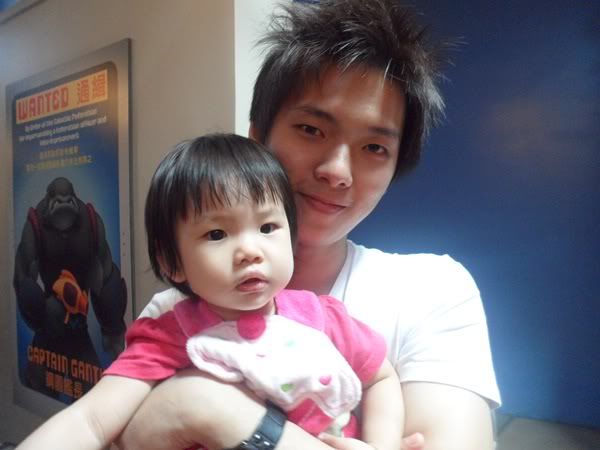 Its the place where you can interact with stitch where stitch is on the big screen and you can actually talk to him and he'll reply you! Damn cool! Clovine got excited at first and laughing but after awhile she seemed kind of scared so we left even before we finish interacting.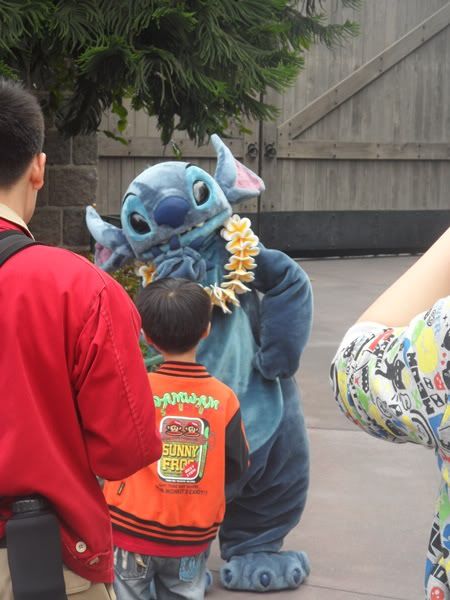 Saw stitch outside! But the queue for the phototaking was too long so gave it a miss :(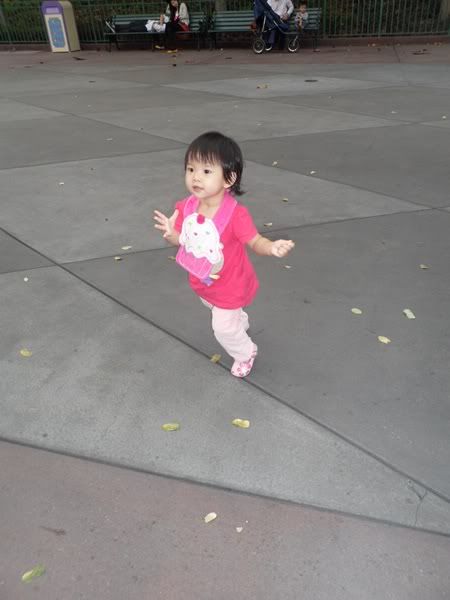 See Clovine dancing happily to the music which can be heard all over disneyland. Damn cute when she dance with alot of new moves now. LOL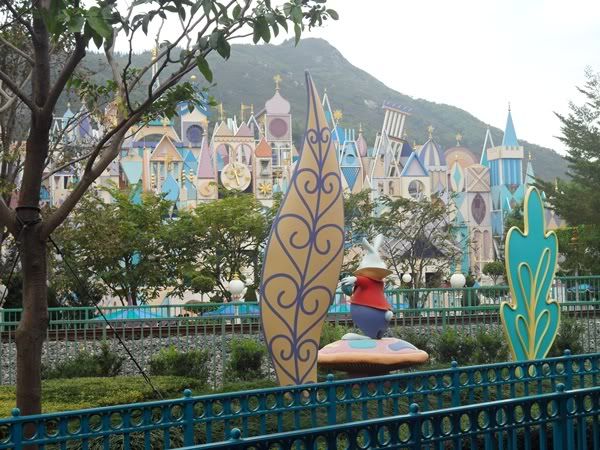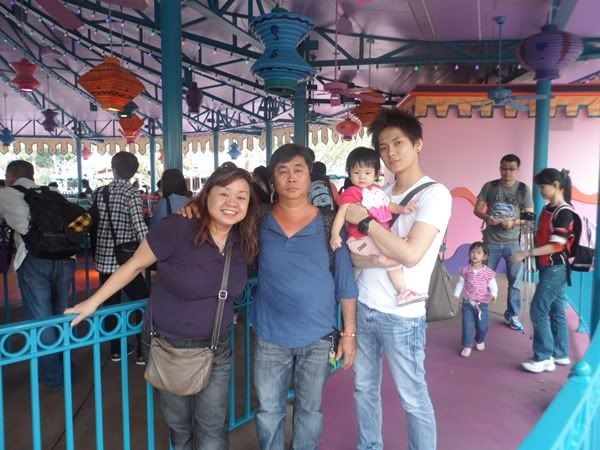 Teacups ride! At that time it was actually Clovine's naptime -...-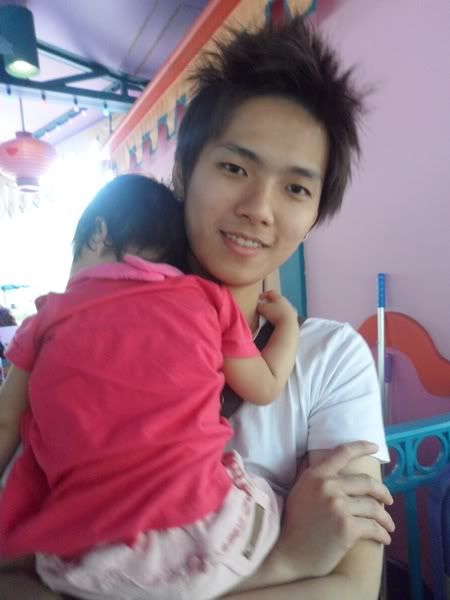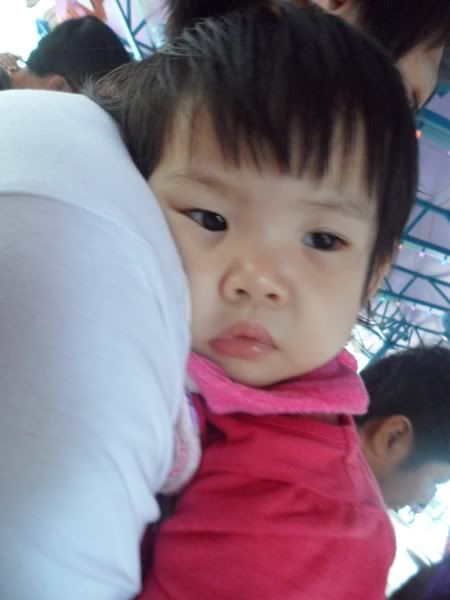 Sleepyhead...
So the spinning of the teacups made Cloving fall asleep even faster. Lol.
My parents.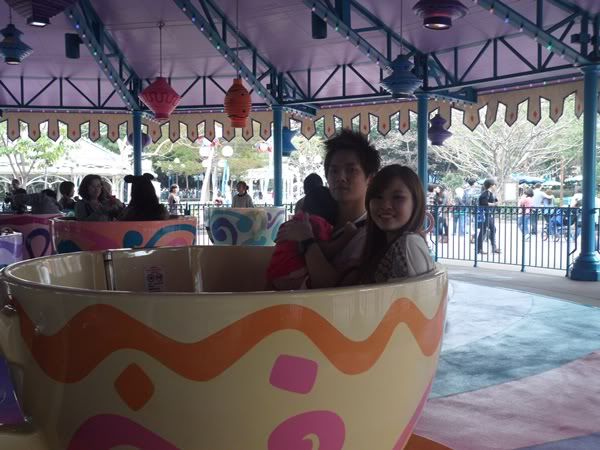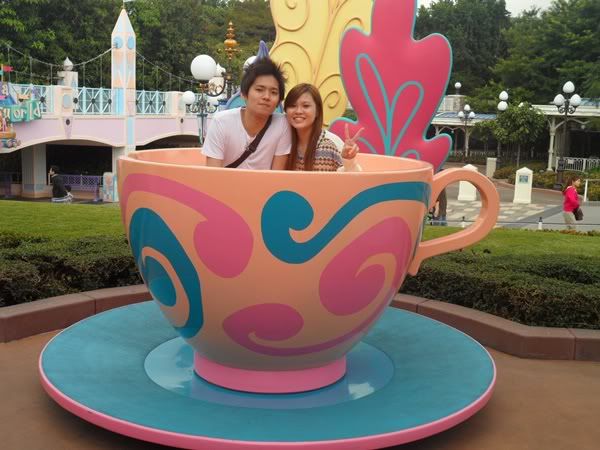 So when Clovine was asleep, we happen to catch this parade! Damn nice and cute! Too bad Clovine was asleep if not she would love love it! :(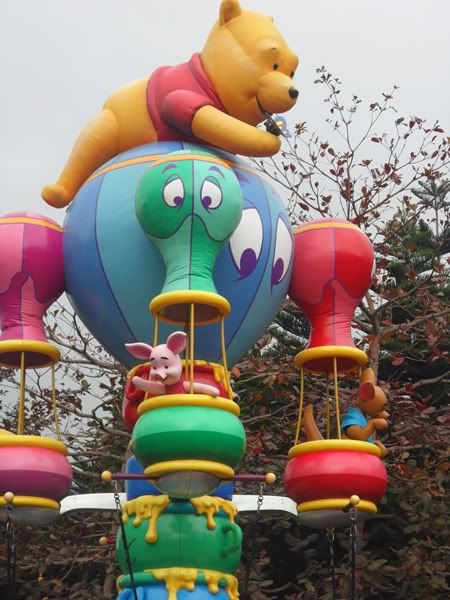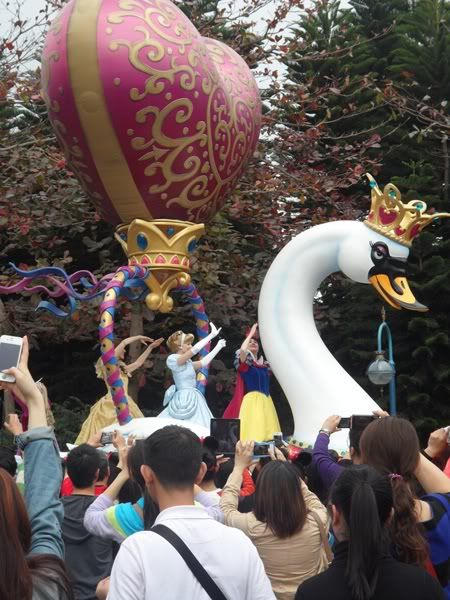 The tinkerbell so ugly leh. Her hair was not in a bun as her hair was short so they clip on a fake bun. So ugly!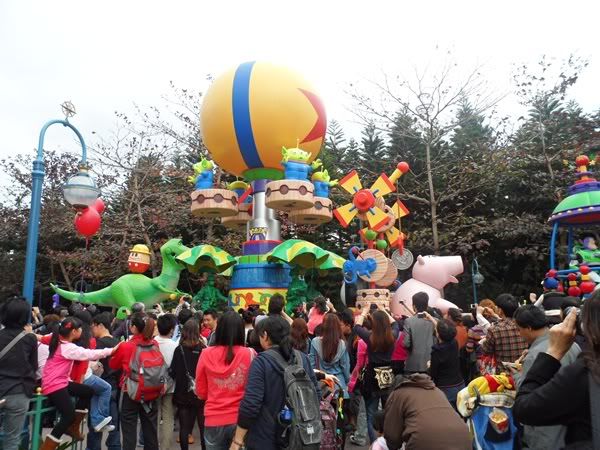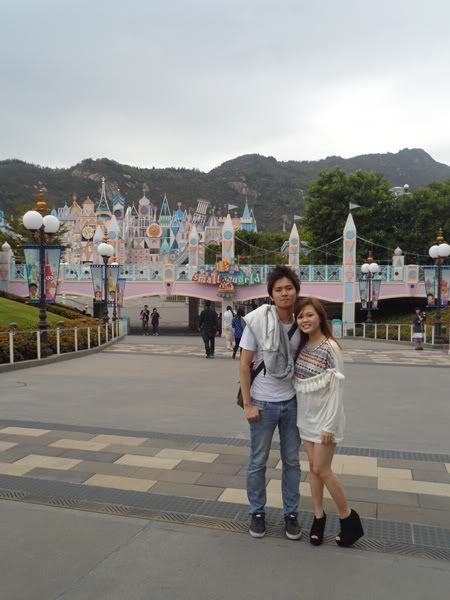 Then we went for the "It's a small world ride" at fantasyland!
It's a slow ride which brings you "around the world"! Very pretty and cute! Same thing Clovine would love it but she's asleep -.- But my parents actualy brought her to ride it again when she woke up and they say she was really excited during the ride.
Obviously this is China.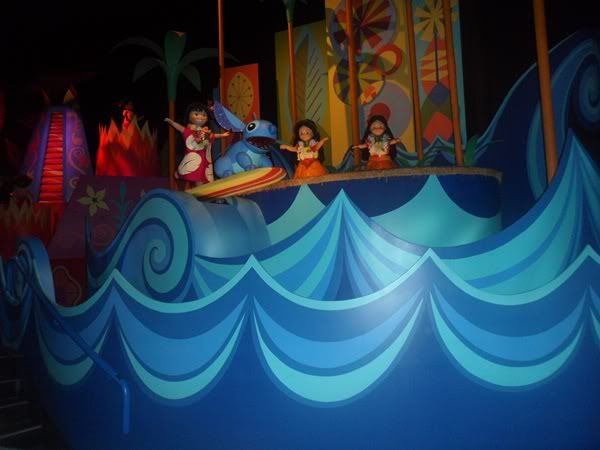 Hawaii.
With the super cute Popcorn container!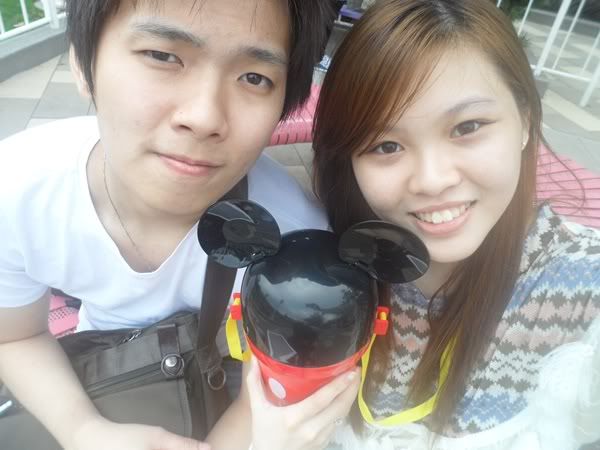 HAHAHA lj bin!
Sleeping soundly...
Toy story land! This is the new attraction built last year~
Theres a few exciting rides which I wanted to take but the queues are kinda long plus nobody would accompany me on it cos Hubby is afraid of heights and fast rides. So disappointing :(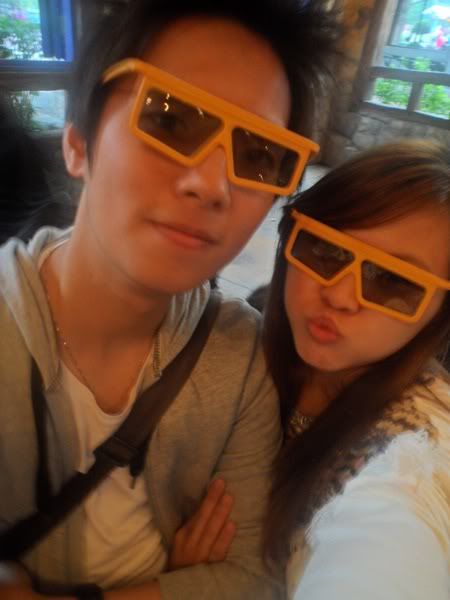 Then Hubby and I went to catch a 3D show in the theaters while my parents brought Clovine for the "It's a small world" ride. The show is damn cool theres wind blowing and even water splashing just that the seats won't move.
Daddy brought Clovine for the teacups ride again. He's always the one bringing Clovine for extra rides. Lol.
Then we went for "The many adventures of winnie the pooh" ride!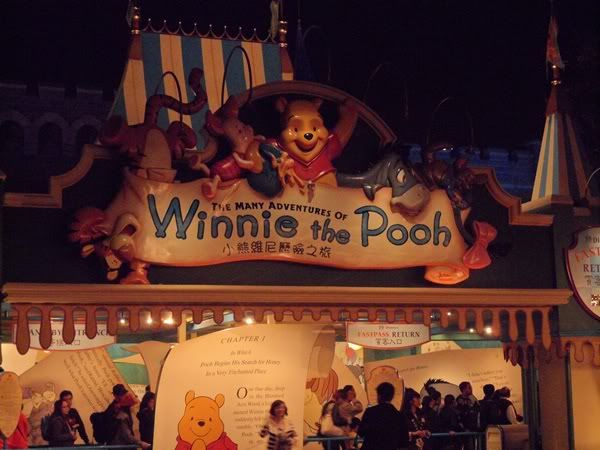 Hahaha Clovine with her cranky face!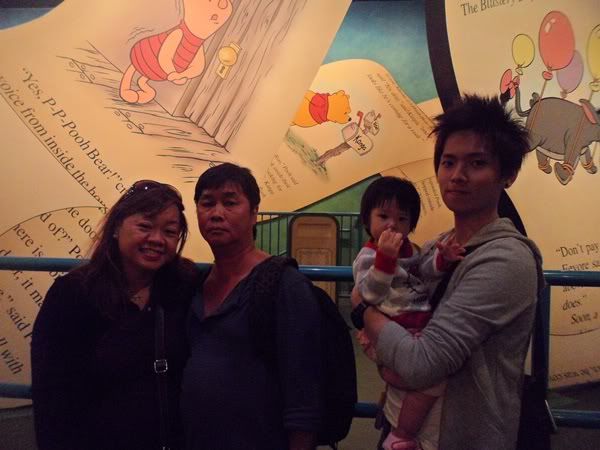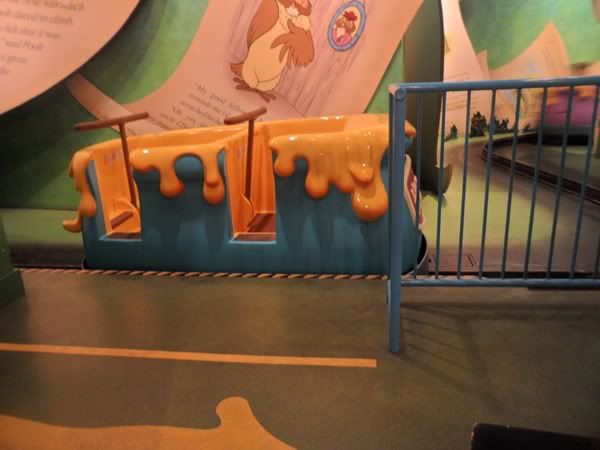 Super cute Honey pot ride!
The ride was so far the best ride! It was realy fun! Theres even a part thats tigger's place and the cart goes up and down like it was bouncing! If the queue wasn't that long we would have taken it again! :(
Then we went for on the "Cinderella Carousel"!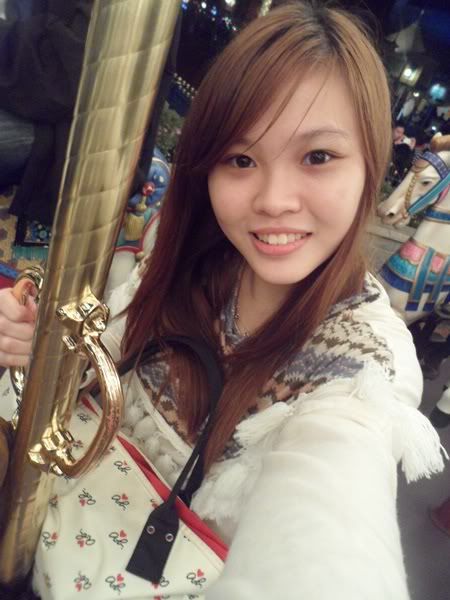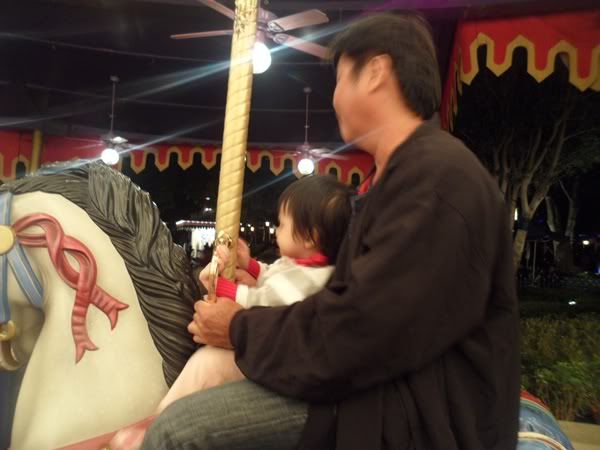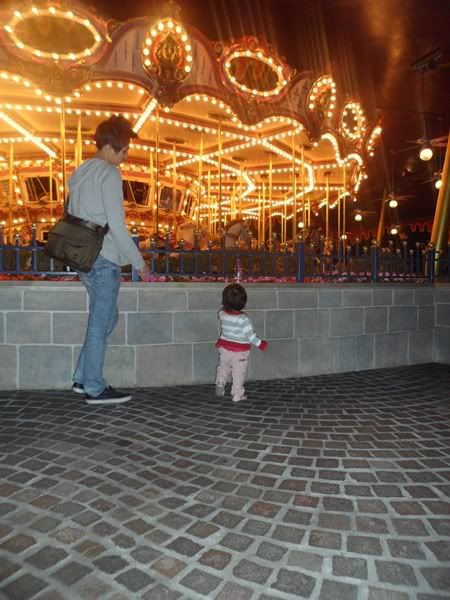 Clovine walking around happily! Oh and now she can even run alrdy! *Faints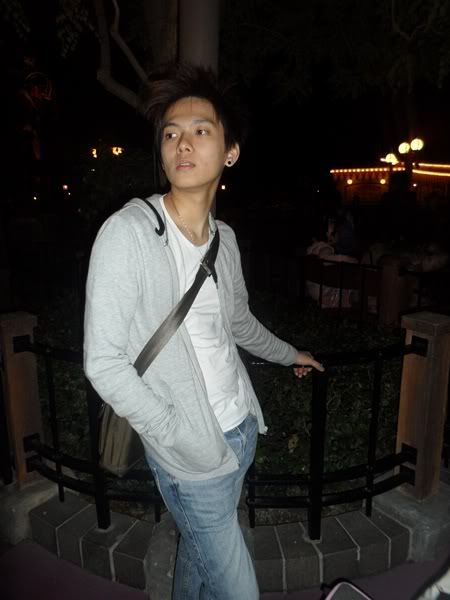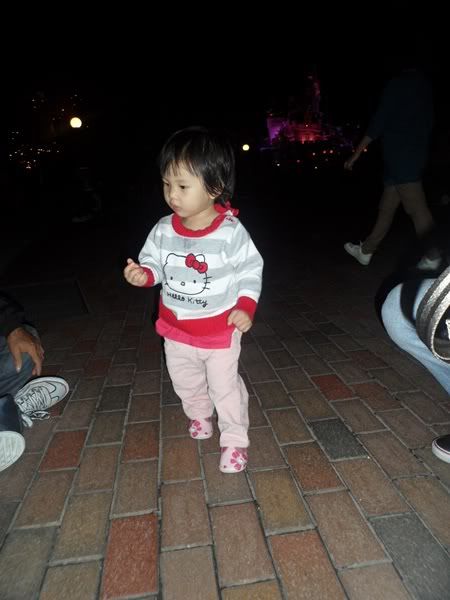 Then Hubby and I went to the souvenirs shop! So many people plus so many cute stuffs! If only I could buy all of them. Hehehe.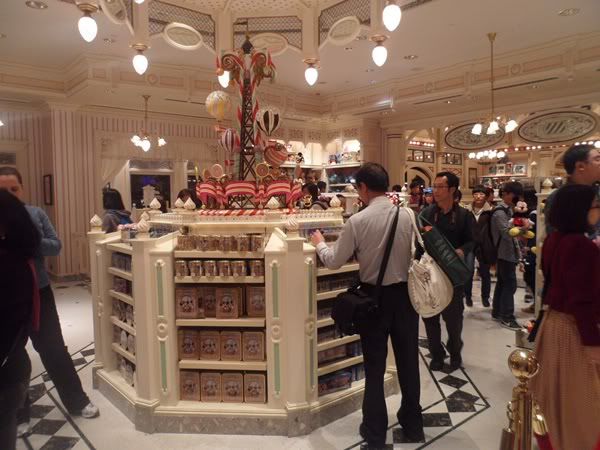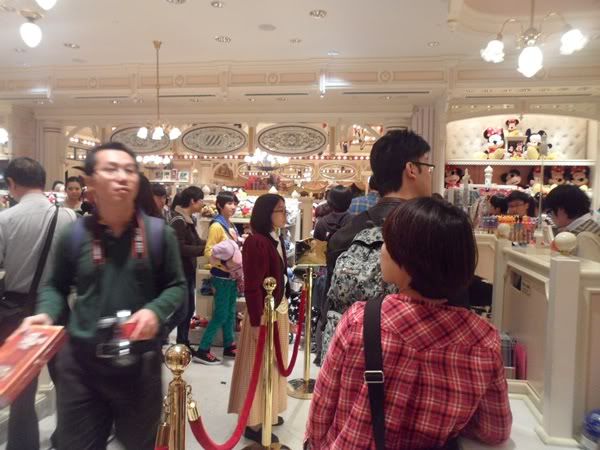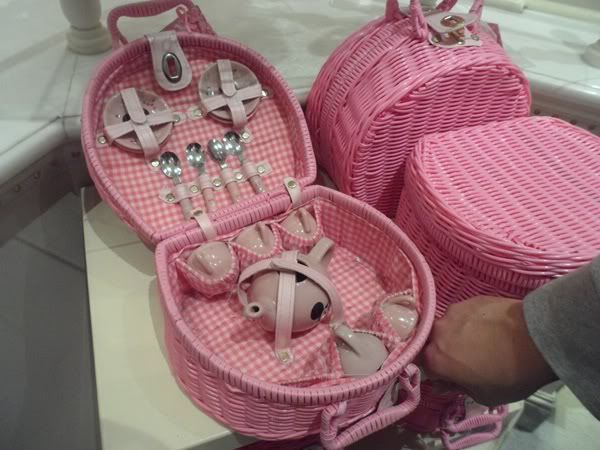 Super cute tea set! If I buy hubby sure say I waste money de lor! Hmph! >:(
Then it was closing time! Everyday before they close there'll be a fireworks show! The show was damn nice! The fireworks coordinates with the music and the fireworks were super colourful! But obvious there was not alot of huge fireworks or they would go bankrupt right? Hahaha.
Look at the amount of people! People mountain people sea!
Then we took the shuttle bus back to our hotel and had our dinner at a cafe there! Ex and the food is not awesome at all! So advise to people who're going there, remember to buy cup noodles! :)
Saw Donald duck while on the way back to our room! But too bad he has to leave so again no picture were taken! :( It's kinda wasted to visit disneyland without having your pictures taken with the characters!
Our room! Shared the room with my parents as theres two queen beds. They even provide cot upon request for your little ones!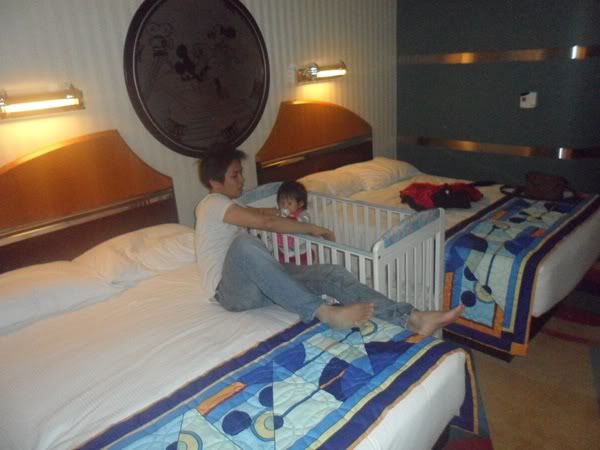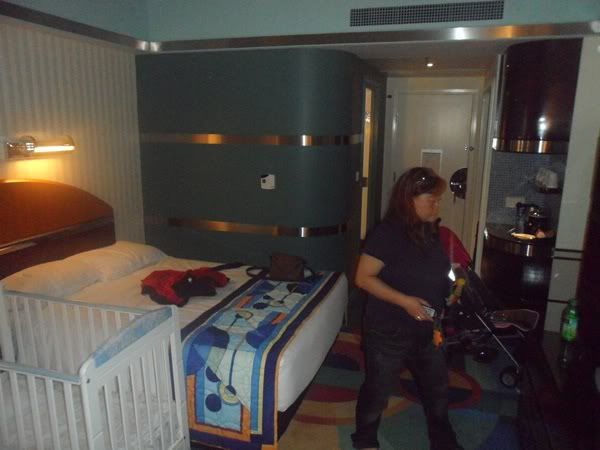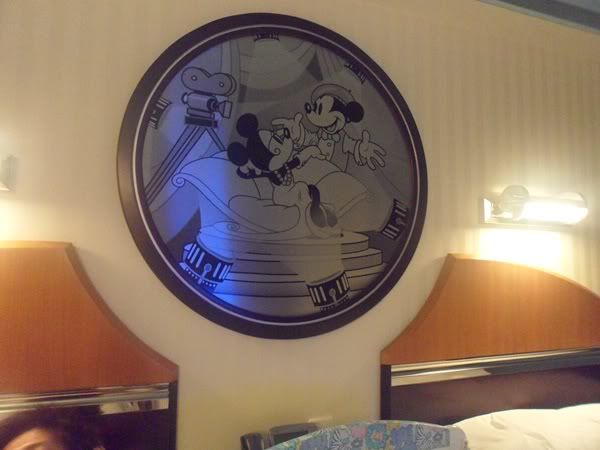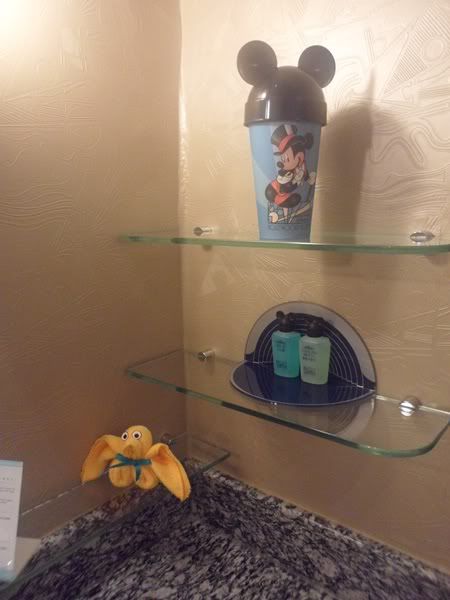 Cute towel folded into errrr maybe a octopus?
There's even a bathtub!!!!!!!!! Sibei shiok okay! I'm so gonna have one in our flat in future!
See even Clovine is enjoying the bath tub!
Bubble bath fun!
Another folded towel which is the alien from toy storey! I did bring this back with us! Too cute to leave it there. Hehehehe!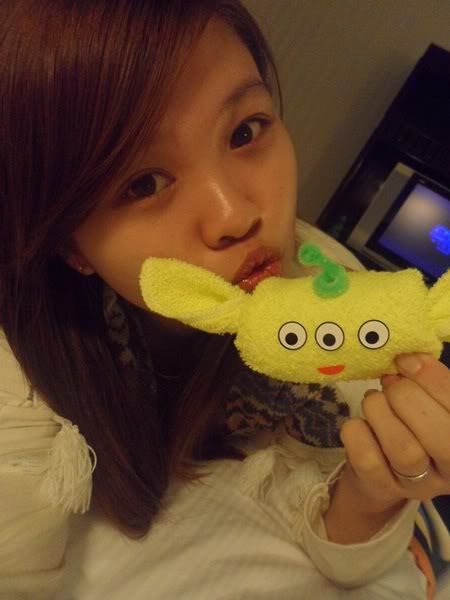 Here's BabyTerror10!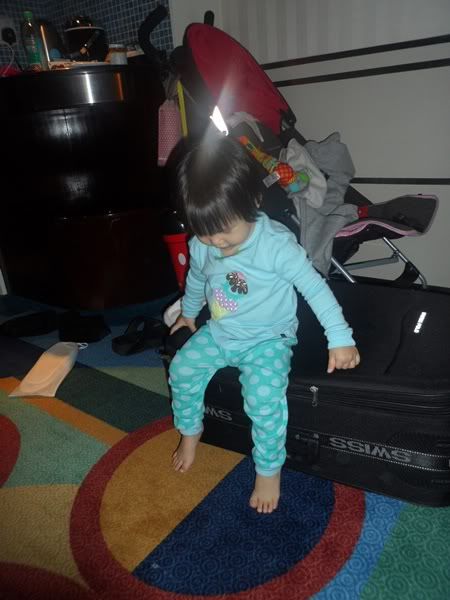 Preparing to do her damage soon!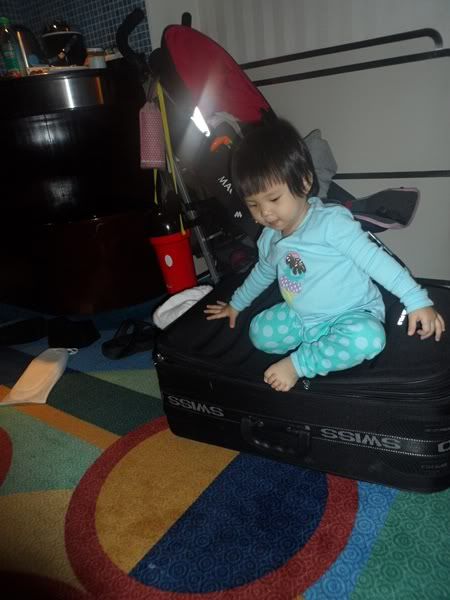 "Muahahaha! Look at me! TERROR IS MY MIDDLE NAME!"
-
Upcoming post: Day 2, My 19th Birthday & Valentine's Day! Okay I can't promise when it'll be up cos' I'm so gonna break my preomise! HAHAHAHA.. Just keep coming back & dont forget to click on my nuffnang ads! ^^