It's our third day in hongkong! Seriously hate my short term memory! Cos, I basically forgotten the names of the places that we went! Like seriously I had to google the names of the places I went in order to blog in details -.-
Okay I'm so gonna note down all the places I go next time to save me from all the trouble!
Damn my STM.
Outfit for the day!
My face is always so plain looking! Maybe I should start the habit of eye makeups? Yes? No?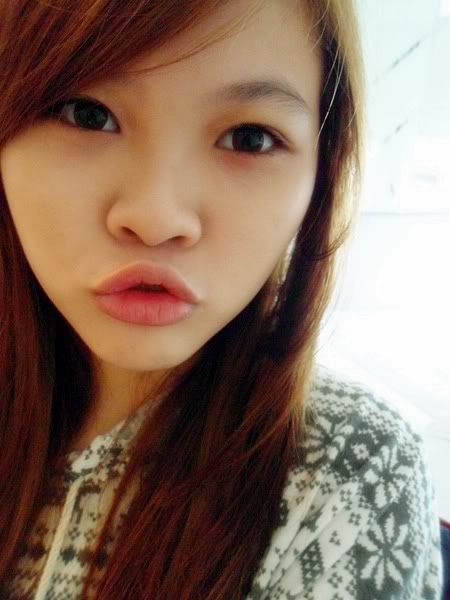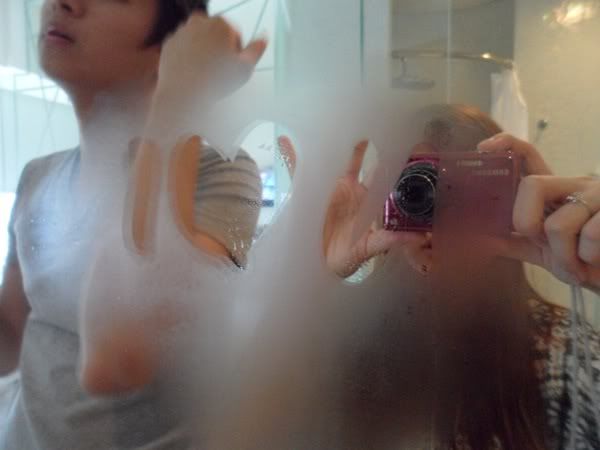 Spot the I ♥ U! Haha I drew it by blowing my breath on the mirror! Lol I know its disgusting but who hasn't tried that before right?
FOREVERSHORT T_T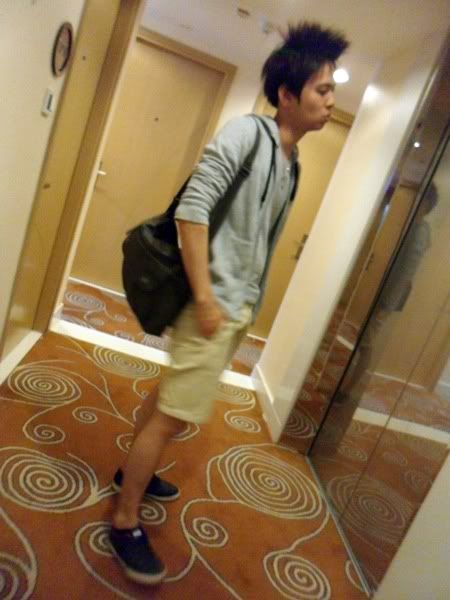 FOREVERACTCOOL.
Went down the hotel's restuarant at level 2 for breakfast buffet & to look for my parents who have bought Clovine down before us!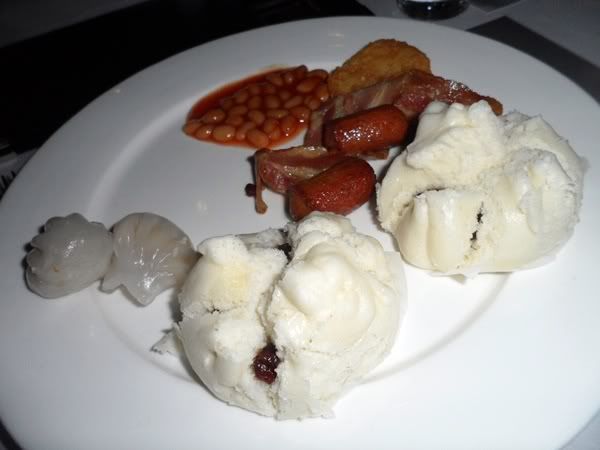 Yummy looking right? Okay lah considered not bad cos as long as theres eggs and bacon, I'm done with breakfast! Hehehe.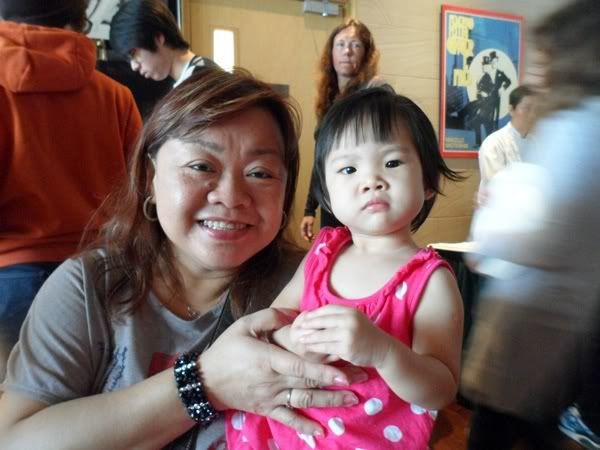 After Breakfast, we took the MTR to Tai Wo Station & cabbed over to the wishing temple!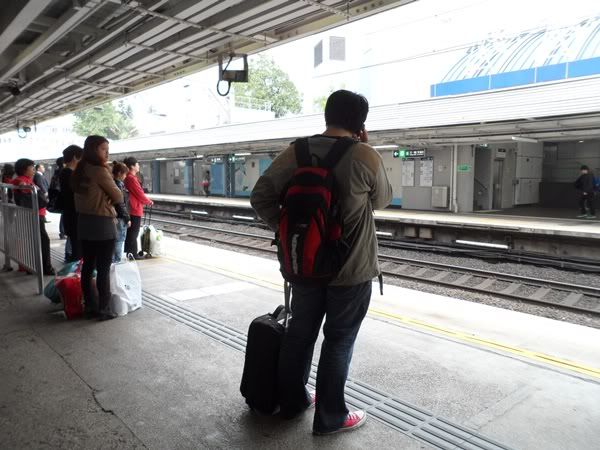 See no gates! I suppose Hongkongers dont commit suicide by jumping down the train tracks right? Lol. I personally think its the most stupid way to commit suicide lah. Like seriously why die such a ugly and horrible death and get dragged under the train! Ewwwww~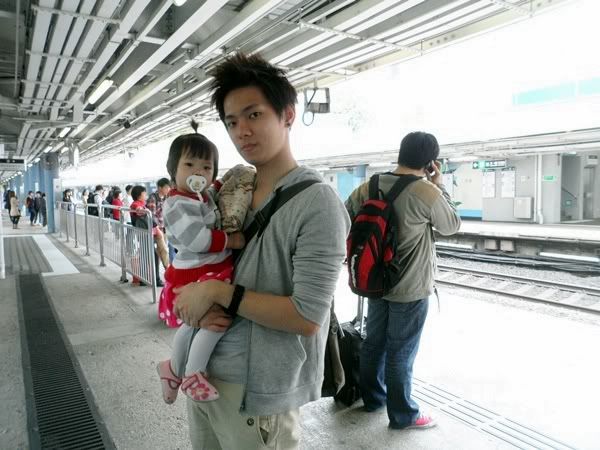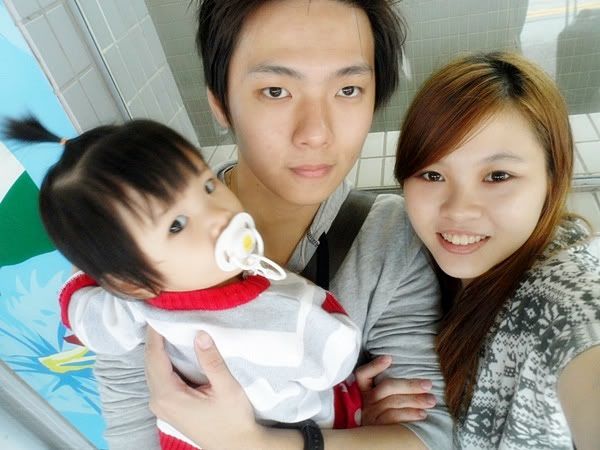 Ohmy. So white so pale.
Here we are at the wishing temple!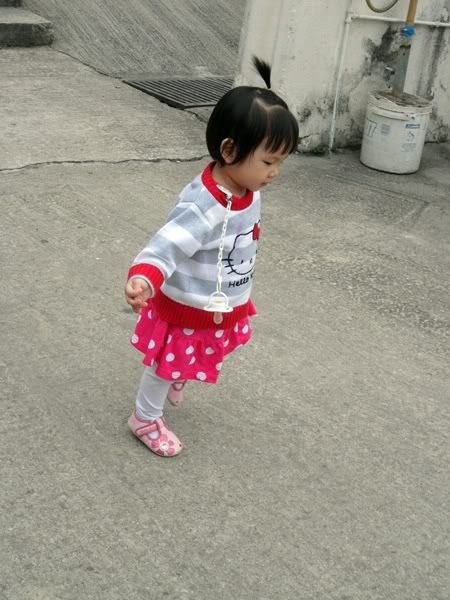 Clovine's outfit of the day! So cute right! Wont get to wear like this in Singapore!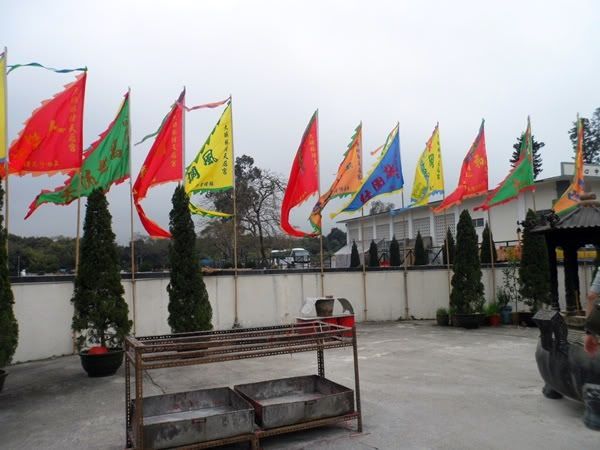 As usual, Clovine roaming around while everyone of us takes turns to chase her.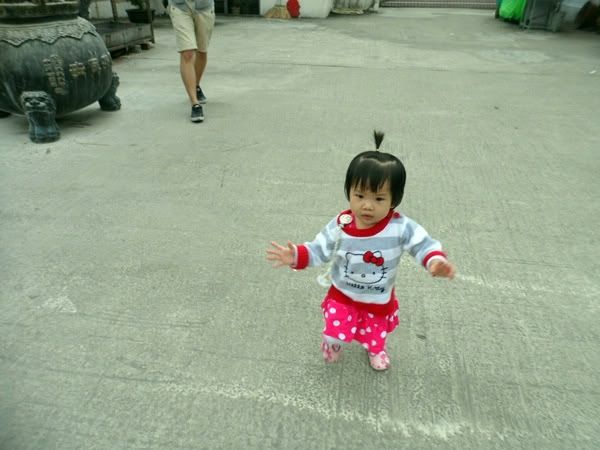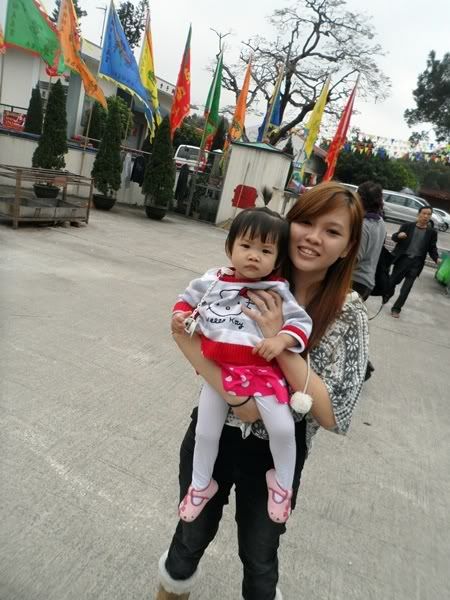 This is another kind of wishing trees.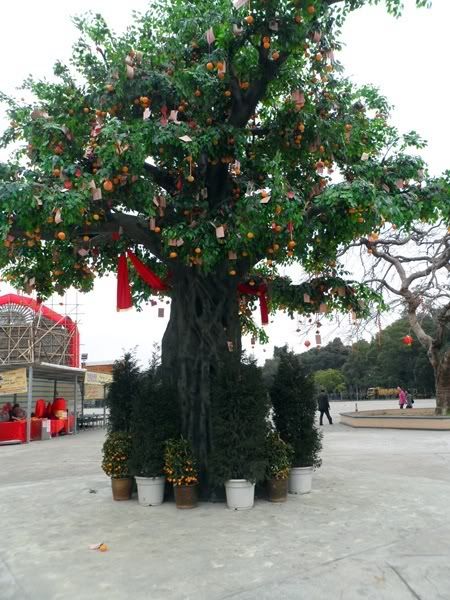 This is the fake wishing tree cos obvious there wouldn't be leaves at this weather right?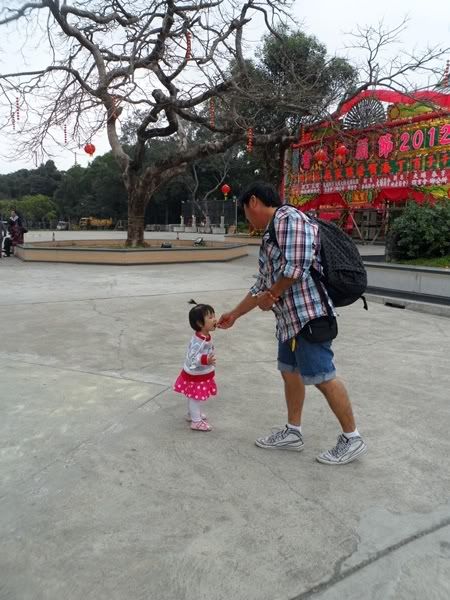 This is the real one but the leaves has fallen off due to the season. So we can only wish on the fake one.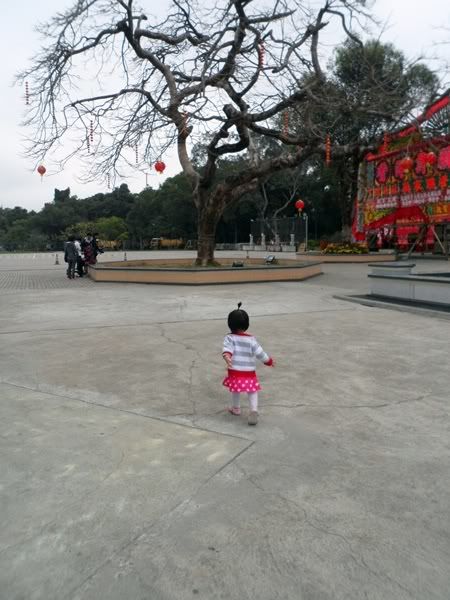 The oranges and wishing cards!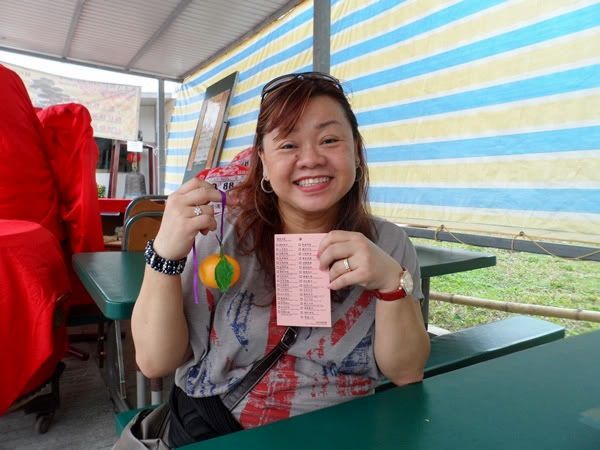 Little Clovine exploring this big piece of land!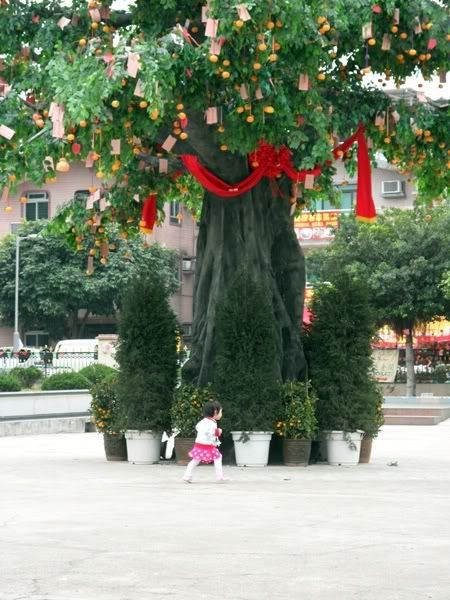 Clovine met a new friend while on her "adventure"! See the way they interact so cute!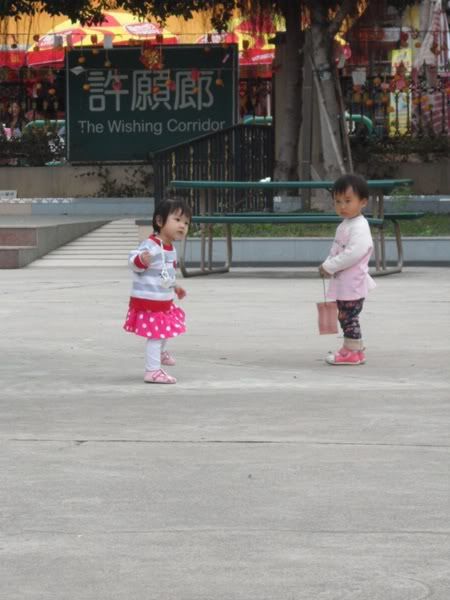 Girl: "Give you orange!"
Clovine: "No thanks!"
Girl: "Nono! I insist you have my orange!"
Clovine: *shy runs away.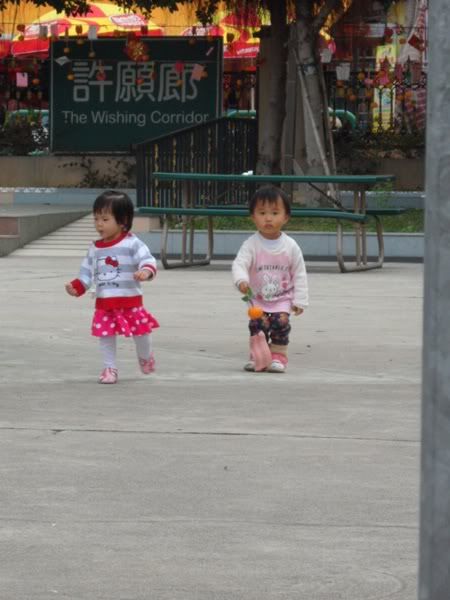 Girl: "Awww I got rejected!"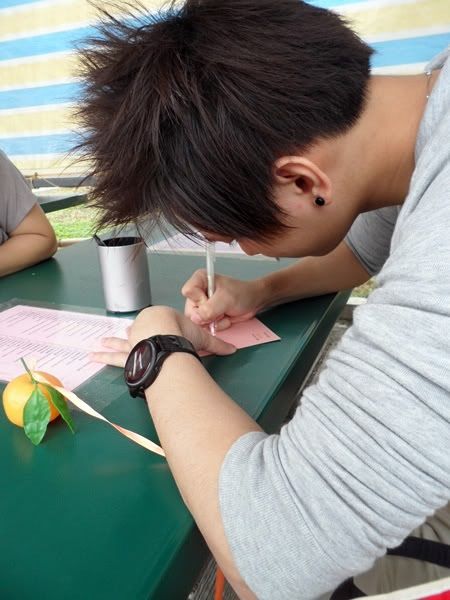 Heres hubby writing her wishes very seriously hoping they would come true! Hahahah.
Heres Kpo queen!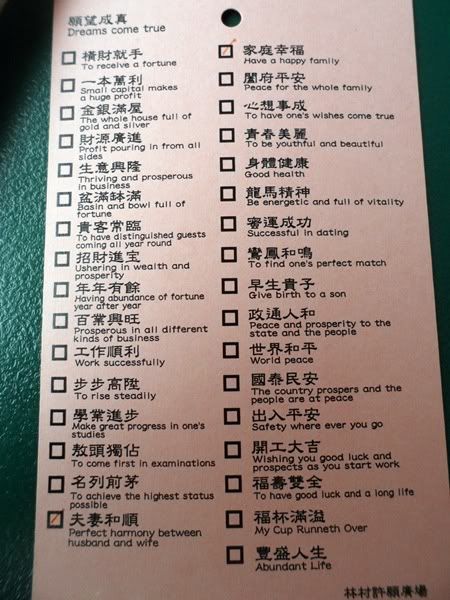 See even got choices for you so if you dont know what to write just tick!
Noming away. Told ya, she will never stop asking for mum mum!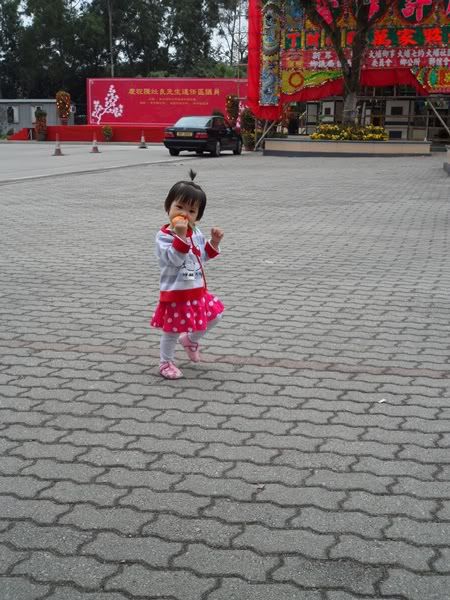 Now she's biting onto the fake orange for wishing!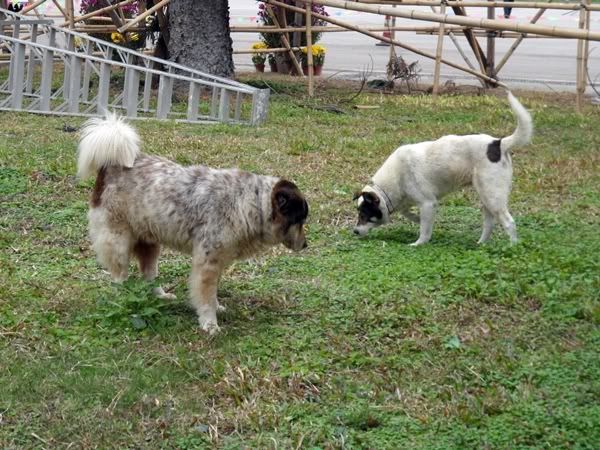 The dogs look so cute! I'm always excited to see animals in another country! LOL Hongkong dogs leh!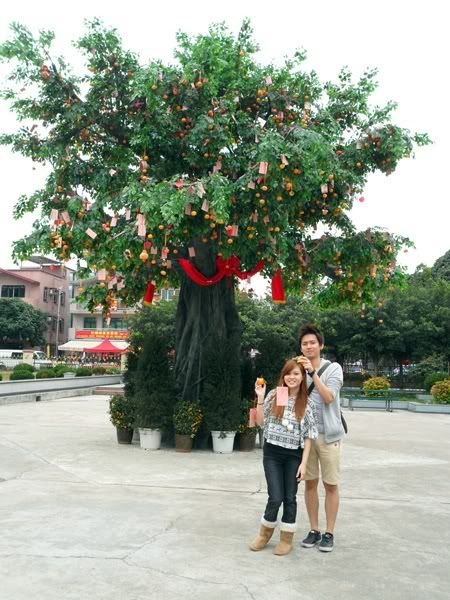 Hubby making his wish by throwing his wishing card tied to the fake orange.
Theres me throwing it! & if you think its really easy to throw it up the tree and not letting HANG on the tree, YOU ARE SO WRONG! It's so difficult when the orange is so light and the tree doesn't seem to wanna accept my wish! Took me 3-4 times to get it up on the tree!!!
So I guess my wish would most likely not come true alrdy! T_T
Fyi, one of my wish is to win 10m toto next year! Well there goes my hope of becoming a millionaire D;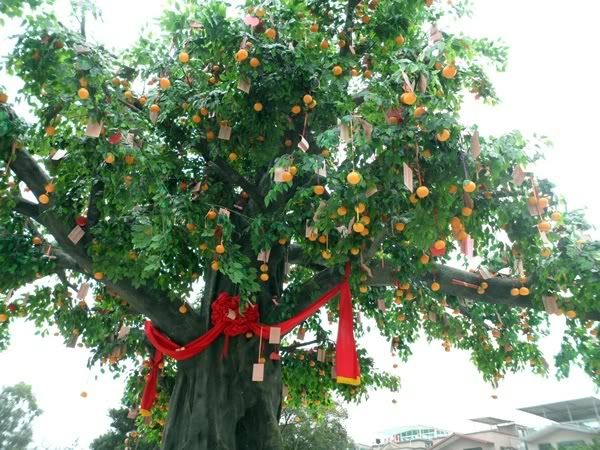 After wishing, we took the MTR and went to Tsim Sha Tsui. Lunch at Food republic!
Yummilicious Charsiew and chicken rice! Love Hongkong's Charsiew rice! Damn yummy and the meat is so fatty and thick! Unlike Singapore's one, so dry and thin slices!
Tsim sha tsui is like the brandeds paradise! Whatever brands they also have it there! Whole stretch of them and big shopping centres that are selling all the luxury brandeds except LV, lol ! Definitely cheaper than Singapore!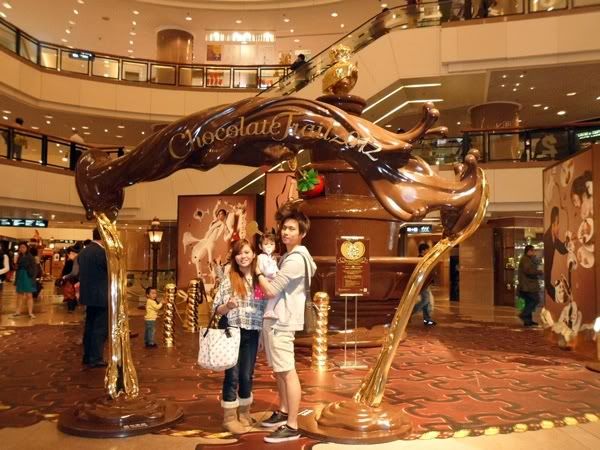 Look at the huge Chocolate fondue behind! I dont know if its real or not.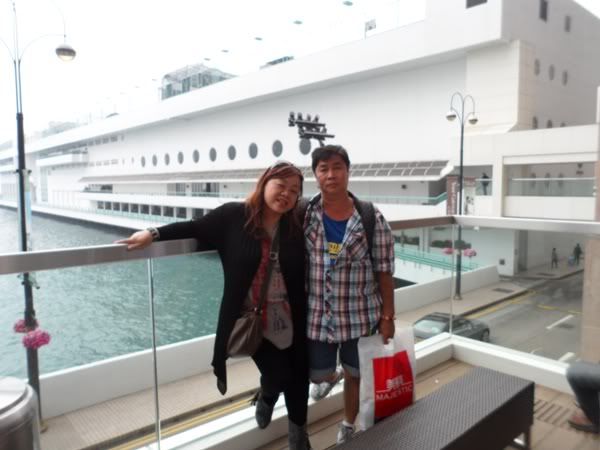 Went for rest at Macdonalds.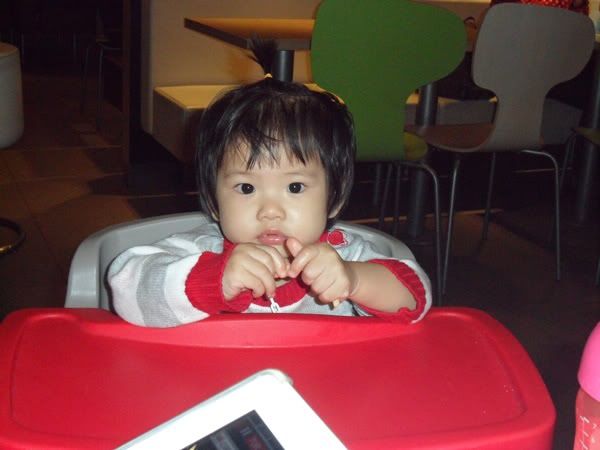 Look at all my loots! Muahahahaha!
I really need a new camera for my next trip! T_T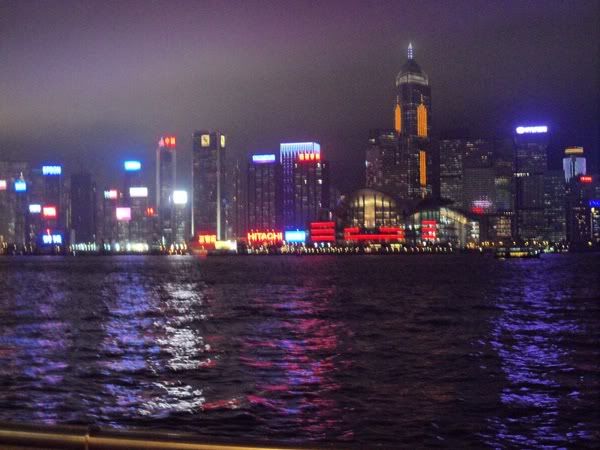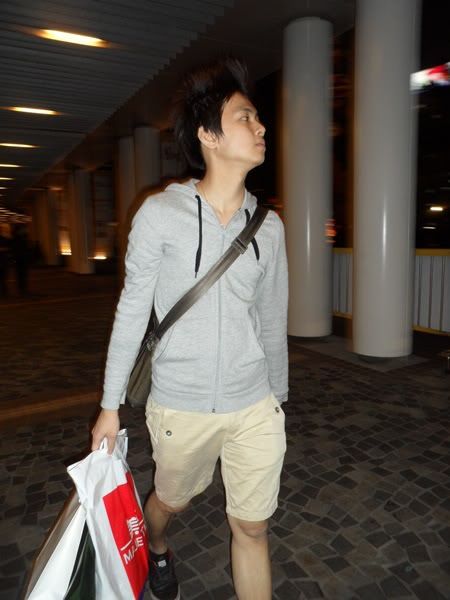 Catwalking. HAHAHAHA
LOL just a ramdom shot. HAHAHAHA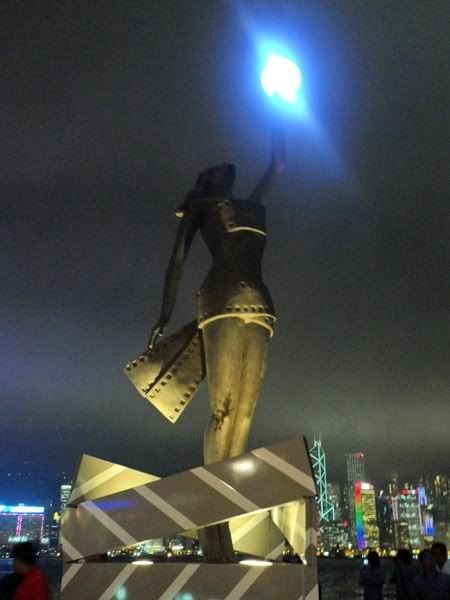 Then we walked to the Avenue of stars! The wind was so strong and it was damn damn cold!!!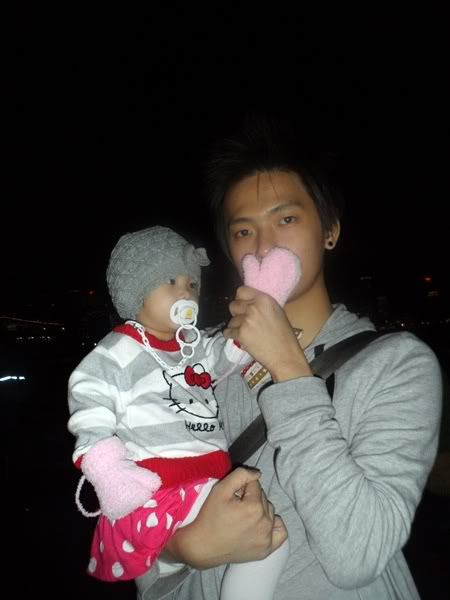 See Clovine all wrappe up like a dumpling! Her reaction is damn funny when she put on those gloves! Its like she knows its cold so putting them on would keep her warm.
See Jackie Chan's handprint! The only handprint I took! It was too cold so we just walked on and on hoping to finish the whole stretch on road!
Bruce lee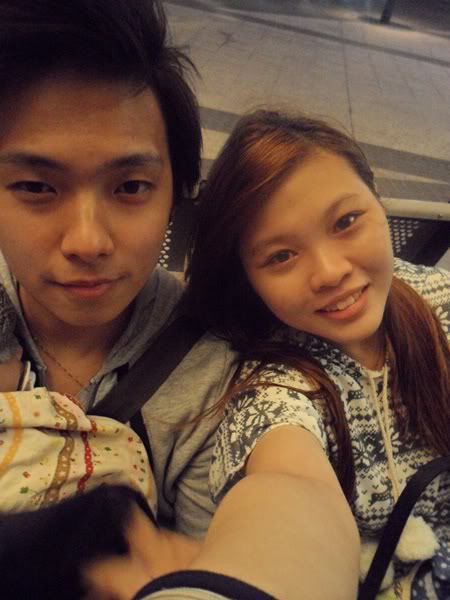 Shagged and shivering!
Hehehe with my birthday loots from Hubby & my parents!
Went back to our hotel to put all the stuffs and went for dinner at a nearby restaurant!
Honey char siew rice again! Too yummy to resist lah! Now I'm craving for it :(
This beef hor fun is super yummy too!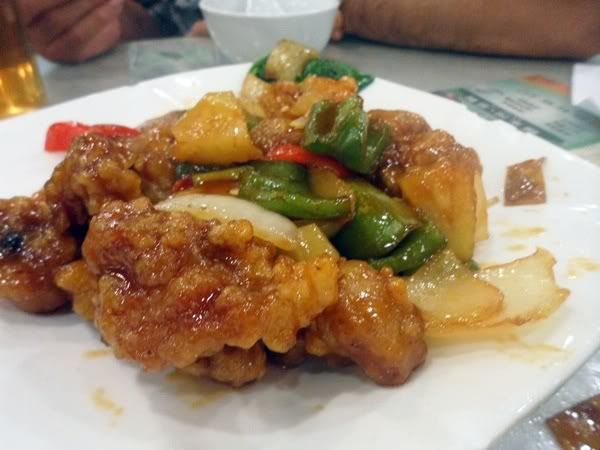 Sweet sour pork!
And veggies that I hate :/
Now for the loots of the day!
My birthday presents!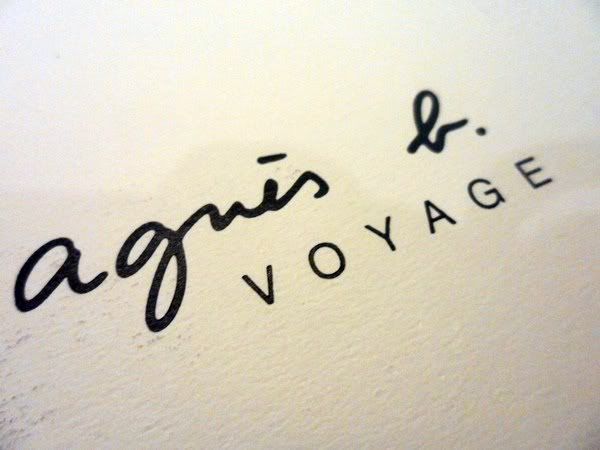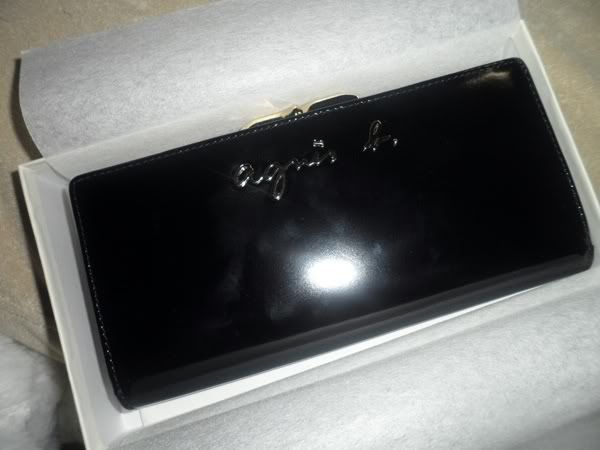 A wallet from hubby! Finally i can change my wallet that already has a hole in it!
and a Iphone casing also from hubby! Hehehe Thanks love!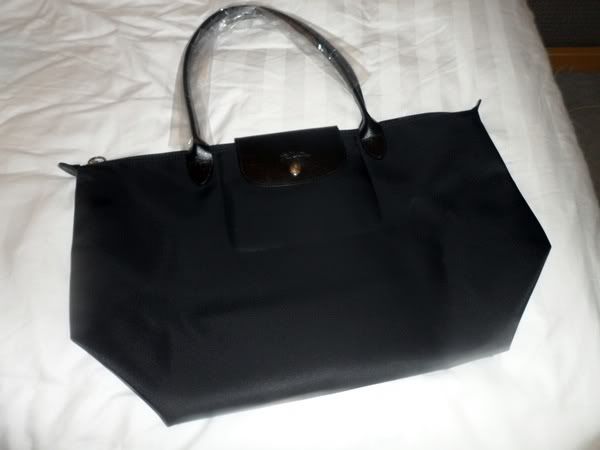 A new bag from my parents! Thank you!!! :D
Hubby's birkenstock that is so much cheaper than SG! And casings at around SGD $5!
Tshirts for the babies!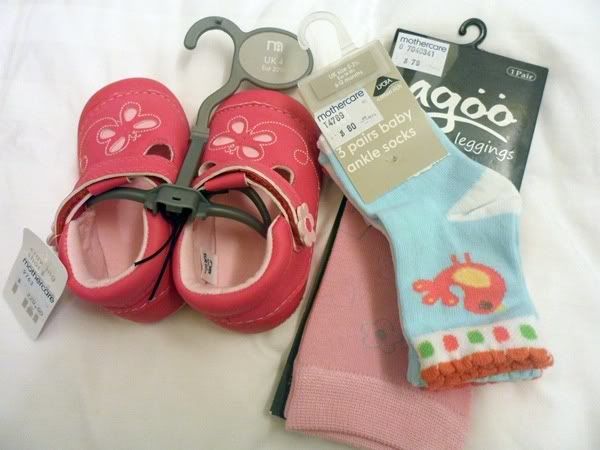 Lastly Clovine's Loots from mothercare! New pair of comfy shoes!
Next post: Day 4 ~~~